In our family room I have a 40in TV and a 30in Apple Display for viewing cams and to do some monitoring via an INDOGO Control Page.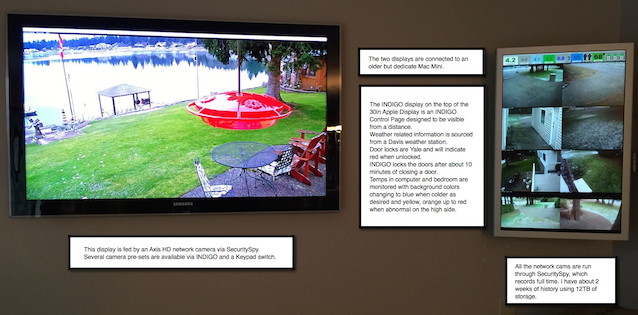 Larger Pic:
http://www.smallrvs.ca/dnloads/LivRoom.png
I want to create a popup that will be invisible until needed.
I'm thinking of something, perhaps AppleScript? or?
The popup would be used as an alarm indicator.
Example:
Garage doors have Zwave TiltSensors on them.
Popup App dormant, nothing visible.
Garage door opens, a Timer is started.
If door not closed within 10 minutes I want the popup to come to foreground over the top of the Cameras.
Popup will probably just be a large red square, perhaps with a message.
Garage door is closed, popup disappears leaving cameras back as they were.
I used to do this with a dedicated RealBasic App but that turned into a mtce nightmare so I'm hoping there will be some suggestions to perhaps do it in AppleScript or Python?
Would there be a way to show/hide a control page via an INDIGO trigger/variable?